I want to intoduce you a brand new startup called Monalica. Monalica is a online free social encyclopedia that everyone can create topics, make definitions about everything. Unlike Wikipedia, monalica creates seperate profiles for its authors. Also nicknames are included in every definition. Concept easy and fun. All you have to do is just creating a Monalica account. You can make definitions about existing topics or create a new one. Every topic name needs to be in the answer form to "what is it?" such as; ways of making extra money, crying under the rain, brad pitt, internet of things etc. You can create topics about people, movies, tv series, things, events, games, apps and nearly everything. Unlike Wikipedia, you can include your personal opinion in your definitions. But you have to be informative at the same time too. Without shared personel experiences, definitions become stronger and real. 

Monalica has it's own voting system. Users can vote each others definitions. System brings top voted definitions to the front page. Also you can view, top voted definitions of the day, week and all time from the "charts" area.
Monalica's content is user generated and users are free to create topic&definitions about everything in terms of obeying the topic writing rules and definitions rules. Otherwise, you'll get banned from the site. Monalica's aim is to create a free information source with real people that is accessible easily. This is why the rules are important.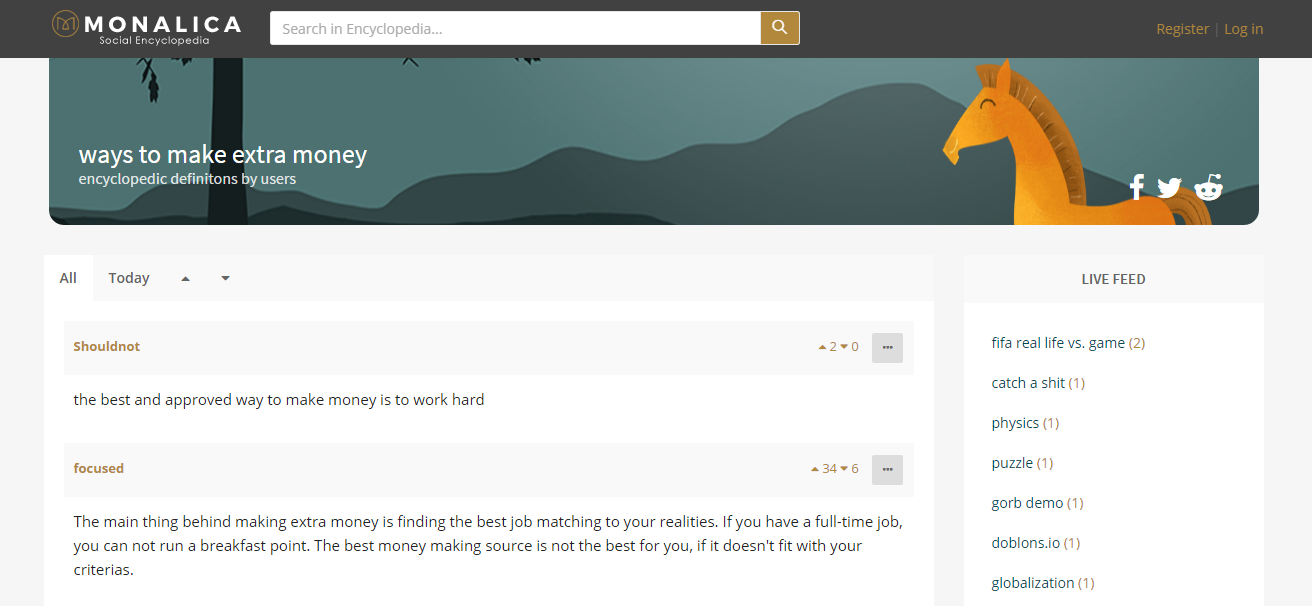 Monalica's unique idea, cute interface and functionality makes the site a good place. There is community behind the project, users can not reply to each other's definitions via definitions. Every definition needs to be meaningful itself. But users can send direct messages to each other. Also there's a "Board" part which is exclusive only for the users. Users can discuss everything on the board.
Monalica's mascot is cute and handsome horse. I really like it. It has been used in many places of the interface.
If you're board of internet's too much noise, if you're tired of unaccessible and useless data flow, Monalica would be a great escape for you.
Visit: http://www.monalica.com